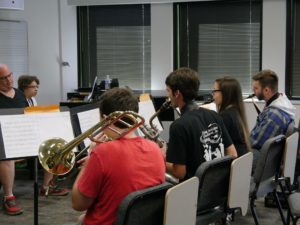 Had a great time this week at the NJW Jazz Camp which concluded today with ensemble performances.  Our ensemble's instructor was Roy Agee, a fantastic trombone player from Nashville who has toured with many greats, including Prince!
I was also excited to receive an email from Jay Mason an FMA member, fellow Bari player, and member of Gordon Goodwin's Big Phat Band. He was in Prague when he reached out. I am a huge fan of the Phat Band.  If you have never heard them play, you should check them out. Very cool.
I started the Sporty's online course this week and hope to start my lessons at Murfreesboro Aviation after the holiday.  I also start taking a summer college class at MTSU on July 10.
Happy 4th everybody!