Well Ladies and gents, the day has come. I flew solo for the very first time on the 27th of September 2017. I am so proud of myself because this is something I never ever thought I would have the courage to do but here I am.
This is completely and utterly all thanks to FMA Solo Program and all of its sponsors! I couldn't be more thankful for everybody involved in my journey to becoming a pilot.
The person I need to mention is my former band teacher Mr. Lewis. I'm not sure if you read these posts Mr. Lewis but regardless, I need to address the fact that you are the sole reason I knew of this scholarship and, therefore, a huge part of the reason I could pursue my dream. Thank you for believing in me and helping me obtain the scholarship. I will never forget all that you have done for me.
Now that my thank you's are addressed, I'll tell all about my first Solo!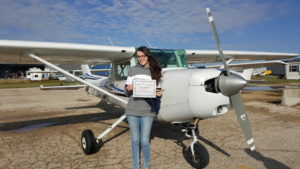 To be completely honest, it wasn't eventful at all. Nothing scary happened, nor was there a lot of traffic in the circuit but nonetheless it was exhilarating! The feeling of being free in the open blue sky, making your own decisions and being completely alone in your trusty plane is utterly fascinating to me.
To break it down, I first started off a normal flight with my instructor doing regular circuits one morning. We did about four or five when suddenly he orders a full stop. I was confused because we had only flown about a half hour. As we were taxiing back to the school he says "ready to Solo??" My. Heart. Stopped. I told him a shy "umm.. I dunno…" and he told me straight up "you're ready. I don't want to wait any longer." about 10 minutes later I'm sitting at the runway 18 hold short line thinking to myself "what in blue blazes am I about to do?" I made the call to tower and was cleared for takeoff and soon enough I'm climbing through the sky laughing to myself. I didn't stop smiling the entire time. I did one circuit, landed then taxied to the school. St. Andrews Tower congratulated me on my first solo and I felt even more happy!
So, there's my story. my first ever solo. I have flown solo twice since then and I'm definitely more comfortable with it now. I will continue to blog my progress towards my license. Once again, thank you so much to all FMA members and every single sponsor, I am so grateful for everybody in support of myself and the other three scholarship winners!
Courtney
**Videos were taken in calm wind conditions only when safe to do so**