The time is here! I have soloed! What a feeling! I would like to thank everyone in the FMA and all the sponsors for making this possible! I would also like to thank the good people at Quality Aviation Services at Jack Barstow Airport, including JT and Janine Rairigh. Everyone has been extremely generous to me and I am very grateful!
The FMA and QAS should be aware and very proud of the financial burden they all have lifted off my shoulders. You guys made it possible for me to accomplish all that I want to accomplish short term, and making the future goals more attainable. It is becoming increasingly difficult for people my age to fund the education we need to get where we want to be, and still have even enough money to fill our gas tanks. Scholarships are almost a necessity these days… Even with a deadly amount of determination and non-stop hard work, I still find it hard to keep the funds suitable to get where I need to in the future, yet still live my life and accomplish my goals. After all, we all have 1 life on this earth and personally, I am definitely not wasting the first 25 years (might I add just under 1/3 of a LONG lifespan) doing nothing but school 😉 So in short, thank you, and I am so appreciative of everything the FMA, the sponsors, and QAS has done for me and do for others like me.
So now I guess the best thing I can say is onward and upward! The journey doesn't stop here, in fact this is the end of the beginning! So, if you are wondering what is next, I think I feel safe predicting a future of hard work, busy schedules, and good times ahead, which is nothing new for me but that's how I like it 🙂 Hope to see you all in the skies someday!
With incredible gratitude,
Aaron Smokovitz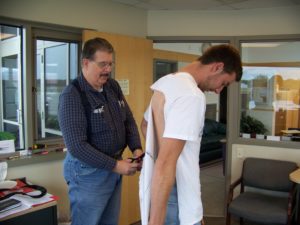 (Above): The day I soloed and the huge chunk of shirt JT Rairigh (instructor) removed. Quite drafty wearing that shirt these days…
(Below): After topping off fuel, before I departed for my solo cross country.