We are proud to announce the 2016 FMA SOLO Winner… Sarah Coffelt, a junior from Tullahoma, Tennessee. 
"Ms. Coffelt is a vital and an extremely visible member of our band program at Tullahoma. This year, she served in the role of field commander. Sarah's leadership skills go well beyond her years and her peers hold her in the highest respect. Her musical skills have been proven throughout her school career by making numerous superior rankings at solo and ensemble festival. Sarah has also made our regional honor band for a number of years and this year was no different when she made the Gold Band at All Mid-State. She puts her all into everything and does so without asking for anything in return. In addition to music, her passion for aviation is an integral part of her daily life. Even more appropriate for this award, aviation will be Ms. Coffelt's future career. I can think of no student who this award would better fit and you would be remiss to not consider her." – Martin D. McFarlane Band Director Tullahoma Band
Hi! My name is Sarah Coffelt, and I am a junior at Tullahoma High School. At THS, I am involved with many programs including National Honor Society, National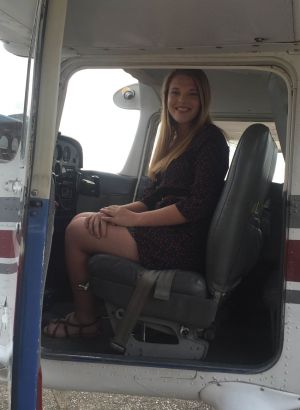 English Honor Society, Mu Alpha Theta, the Green Team, Spanish Club, and the Tullahoma Band. In the band, I have achieved the highest placement of leadership both teaching and setting an example for younger and potential members of the band. I am also the Field Commander. As the Field Commander I have been exposed to unique opportunities and challenges such as leading a 150 member ensemble and becoming a band "mom." Outside of school, I am employed at Tullahoma's Regional Airport (KTHA). There, I work as a Service Specialist fueling, parking, and storing aircraft as well as personally assisting pilots. Working at KTHA has allowed me to gain experience around aircraft which I will take with me as I begin my flight lessons. I cannot wait to begin training and sharing my experiences with you all. Again, thank you for this amazing opportunity and I hope you all will follow me as I begin this journey.
"We have found that, perhaps more than any other teachers, band directors get to know their students' dreams. With these scholarships, they can help select students achieve them." — Tim Kern, CAM, B.Mus, MBA, founding member and Board Member of FMA, and aviation journalist.
Read the article posted in the Tullahoma News!
Follow Sarah as she documents her progress.
2016 FINALISTS:
FMA applauds all of the finalists. They are outstanding individuals who deserve our support. FMA will continue to seek opportunities, lend support and encouragement. We encourage all nominees and finalists to stay in touch as they actively pursue academics, music, and aviation.
Sponsors: