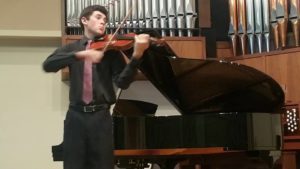 I have been a musician and involved with aviation my whole life. I have played the violin since the age of 5, taking lessons, playing in many orchestras, playing in many competitions, and giving many recitals. I can be seen playing with the Williamsport Symphony Orchestra, giving a solo recital, or even playing electric violin in rock-and-roll shows.
Additionally, I play the piano and sing bass. I have played the piano for 5 years and have become a much smarter musician because of it. With singing, I have performed in lead roles of numerous musicals and even qualified for the Pennsylvania All-State Chorus, on top of qualifying for the All-State Orchestra on Violin for 3 years in a row.
My introduction to flying came around the same age. Since my dad is an avid private pilot and pilot for Civil Air Patrol, I was exposed to it very early on, from playing flight simulator and riding in my dad's Cessna 172 from as far back as I can remember to flying from the right seat for the first time when I was probably about 7.
When not playing the violin, learning to fly, or studying academics, I can be found on a golf course near you. I play in a lot of junior tournaments on local, state, and national levels, but most of my time is spent slaving away on the driving range grooving my swing. My main academic interests are Physics, German, Economics, and Philosophy, so I am always up for a healthy discussion on any of these topics, although I'm sure once my flying lessons begin in July, that will begin to consume much of the conversation I have in the coming months.
Safe Skies,
William Knauth
William's choice of flight school/instructor is AvSport of Lock Haven, PA. Professor H. Paul Shuch will instruct William at the Piper Memorial Airport (KLHV).

About AvSport:
AvSport is a new flight school based in Hangar One on the North side of historic Piper Memorial Airport (KLHV), Lock Haven PA (ancestral home to Piper Aircraft, and birthplace of the Cub). We specialize in training candidates for the FAA Sport Pilot license, using modern Light Sport aircraft (at about half the cost, and half the instructional time, needed to earn a Private Pilot license).
Visit AvSport
About Professor H. Paul Shuch:
In his four and a half decades as a professional educator, Chief Flight Instructor H. Paul Shuch has delivered more than 20,000 hours of classroom lectures, as well as roughly 1500 hours each of dual flight instruction and individualized ground instruction. He has been flying for more than half a century, and served as a visiting professor or guest lecturer at more than two hundred schools, conferences, and professional meetings in two dozen countries on six continents.  He serves as an FAA Safety Team Lead Representative on a volunteer basis.  Paul produced AvSport's unique training curriculum, and is the author of more than 650 publications in both academic journals and the popular press. Although formally retired from academia, he will never stop being a teacher.