Hi All,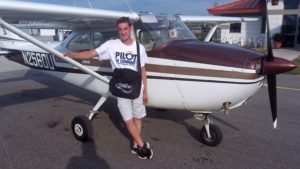 Here is a picture of the Skyhawk I am learning in, and of course, my ugly self blocking the view 😉 I'm LOVING this FMA bag for all my dual instruction stuff! Real handy! 🙂 I also have been wearing the AOPA pilot in command shirt for every lesson. My goal to maybe subliminally force an idea into my instructors head, but more realistically to jokingly nag him for every lesson 🙂 One day, that tail will be cut loose!
I completed my second lesson in the air yesterday, and it went very well! I'm trying my best to absorb everything he throws at me like a sponge. There is indeed a lot coming at me in a short period of time, so I think I am going to start writing down what he is throwing at me after the lessons in hopes that I don't forget all the little things. Well, we tried to get up in the air on Tuesday, but Mother Nature said no in the form of a vast black wall to the North East that would swallow up and laugh at a little 172… We ended up doing a burning lap down the runway and aborting the takeoff. He still managed to make it eventful, however, by announcing the child on the runway (simulation of course).
Well, I shared that scenario because it played a roll in a miscommunication in the next lesson with my instructor. So, thursday comes, and I rush home from the airport all dirty from working, shower, change clothes, grab a pb+j and my flight bag and head right back to start the preflight. I get done with that, and we then proceed with a half an hour lecture on longitudinal static stability. After that, we taxi out to the threshold, run up, and announce our take off. He tells me to pull out and center and stop, which I do. He then gives me the IFR goggles to put on, "take off with nothing but my voice and instruments. The key is your heading  and airspeed indicators" I quickly tune the heading indicator, and let it sink in that I am literally flying blind! The only part that freaked me out was seeing the millimeter gap between the goggle's barrier and cockpit, which displayed part of the runway rushing by. He kept saying, "MORE RIGHT RUDDER! YOU'RE DRIFTING! MORE! MORE!" I stuck with my heading indicator and was waiting until at least 65 knots to try and lift off.
Now keep in mind here that my mind is rushing, so don't judge 😉 At about 62 he says in a seemingly disappointed tone, "alright pull back come on." Now, with that last scene of a child on the runway still fresh in my mind (don't worry, there was not actually a kid), I quickly reacted by grabbing the throttle, pulling back to idle, and hitting the brakes to come to a stop and abort the takeoff. Once I crossed the threshold, he asked, "why did we abort the takeoff?" I responded at first with maybe I wasn't centered enough. He said, "not centered? When you pulled the throttle back you were in the dead center!" Suprised and clueless, I asked why he did call me off then. "I didn't! I mean pull back to lift off."
Hehe… instantly I turned red and felt a little stupid 🙂 He acknowledged and appreciated the fact that I wasn't indecisive and did exactly what I thought he meant, and did it right. However, I still felt a little idiotic for misunderstanding something as simple as pull back…
Anyway, besides that hiccup it went great! We taxied back and I got a redemption on the goggled takeoff, which went great the second time. We did about a half hour of goggled flying, then we did disoriented corrections, in which I would close my eyes and look down while he angled the play in a strange manner. He would then say Go, and I would take the controls and reconfigure the airplane in a smooth manner. We also did slow flight, and demonstrated longitudinal static stability while in the air, and the effects of it.
He made my heart pump again by pulling the throttle back, and not letting me touch it. I asked if this is an engine out simulation. His only response I could get is "if it was an engine out, who is going to tell you that?" I then continued with the steps on an engine failure, announcing them out loud so he knew I knew what to do. That went very well, since luckily a beautiful hay field was practically laying on our laps, and I studied the emergency procedures very carefully since I knew it would come eventually in the dual instruction, however sooner than I thought. We also ended the day with two landings.
Cheers,
Aaron